To get the ecolabel - step by step
The path to a label within Möbelfakta follows the following steps:

1. Application and License Terms
2. Education
3. Declaration
4. Review compliance with requirements
5. Certificate and publication on website
6. Marketing

If you have questions about how the labeling process works, contact us at info@mobelfakta.
Briefly about being part of Möbelfakta
Möbelfakta demands both that the products that are labeled meet the applicable requirements and that you as a company do so. This means that routines and processes linked to quality, environment and responsible supply chains, which are specified in more detail in Möbelfakta's requirements specification, must be in place at the companies that are connected to Möbelfakta. Once your company has been approved, you have the right to use Möbelfakta in your marketing as long as the license is valid and for the products that have been approved.

Möbelfaktas is based on a system of self-declaration of products where you as a company declare products that you ensure meet Möbelfaktas' requirements. Furthermore, Möbelfakta requires that there is always a registered declarant at the company. To ensure continuous compliance with requirements, follow-ups are made of all companies included in Möbelfakta. This takes place through our partner Trossa.

When revising Möbelfakta's requirement specification, the licensee is obliged to adapt declared products within the notified transition period in order for the labeling to be valid.

In order to be included in Möbelfakta and have your first product reviewed and approved, there are four times a year when the approval process for new companies is carried out.

When you are approved for Möbelfakta
1. Annual license fees
2. Declaration of new products
3. Renewals and changes in declarations
4. Ensure continuous compliance
5. Audit with random audits
1 Application and license agreement

This is the first step in Möbelfakta's labeling process. To start the process and thus be able to label your first piece of furniture, you need to submit an application, sign Möbelfakta's license agreement and pay an application fee.

1) The application is made through an application form, see below
2) License agreement is sent and signed, read the license agreement here.
3) As a new company, you pay an application fee, see fees.

Upon approval, you also pay annual fees according to the license agreement, seethe license agreement
2 Education and registered declarant

The next step is for you as a company to participate in two mandatory training courses aimed at increased understanding and knowledge of Möbelfakta and associated requirements. We see these courses as central to an effective labeling process.

Möbelfakta also provides basic training where Möbelfakta's process and requirements are reviewed. Partly an in-depth training in risk analysis regarding suppliers. Möbelfakta requires that all companies have a responsible person, i.e. a registered declarant, who has undergone these trainings. Every company must always have at least one registered declarant, see Möbelfakta's courses here


3 Declare your first product
Information on how you as a company declare your first product as well as login details for registered declarants to Möbelfakta's e-declaration system are sent after completed training.

The declarant prepares a declaration digitally through the e-declaration regarding the individual product and thereby certifies that the product meets Möbelfakta's requirement specification according to the latest version.

Login
You will find the manual and login link for the e-declaration on the right. Are you missing login information? click here to notify .

The login details for the e-declaration only apply to registered declarants and are personal to them.

English declaration form (Declaration Form) must be printed and signed by the Möbelfakta declarant and CEO.

Support when declaring
You will find support materials such as subcontractor certificate on the right.

Support for declarants
Contact support@mobelfakta.se if you have questions.


Schedule reviews

Initiated review requires that the company:
- ensured compliance with all requirements
- can immediately provide documentation showing compliance with requirements
- can provide relevant documentation in a structured way

The review is carried out in two stages at given times during the year, see timetable at the top of the page .

Registration for review takes place by email to info@mobelfakta.se


4 Review compliance with requirements
This step aims to ensure that you as a company and declared product comply with Möbelfakta's requirements.

The review includes both product-specific requirements and business-wide requirements in the form of routines and processes linked to the product. Approval is subject to the condition that the product and company meet all applicable requirements. Our partner Trossa AB is responsible for the review process.

The review process is divided into two stages as below where stage two includes an on-site visit:

- Step 1: Follow-up of compliance for part 1 (Quality requirements) and part 2 (Environmental requirements)
- Step 2: Follow-up of compliance for part 3 Responsible supply chains

The company is called to informational meetings prior to each step with the purpose of clarifying the review process, the necessary documentation that the company needs to submit, and providing an opportunity to ask questions.

NOTE! When the review begins, the company should have
- ensured compliance with all requirements
- all documentation showing compliance with requirements
- be able to provide relevant documentation in a structured way


5 Certificate and publication
When a company is approved, i.e. has undergone the review process with an approved result, the company and the declared product are published on Möbelfakta's website. The company now has the opportunity to declare additional products that meet Möbelfakta's requirements and download certificates for approved products via the e-declaration system.

Change in approved declarations
If you want to make changes to already approved declarations, you order this via the form below.
Fill in and send to support@mobelfakta.se.
Login & manual
Schedule reviews
Declaration Form (eng)
Supporting documents
Requirements - Quality (eng)
Intyg - Underleverantörsintyg
UPPDATERADE 2023-06-09
Certificate - Subcontractor certificate
Updated 2023-06-20
Other documents
Marketing with Möbelfakta
Möbelfakta is a brand that stands for quality, environmental awareness and social responsibility.

Furniture with Möbelfakta's logo signals our relevant and uniform requirements - requirements that give you as a manufacturer, retailer and purchaser a stronger brand and a clear competitive advantage over the customer.

There are also different types of marketing materials for Möbelfakta that you can use in your business.

See the price list on the right for printed products and various digital files to download.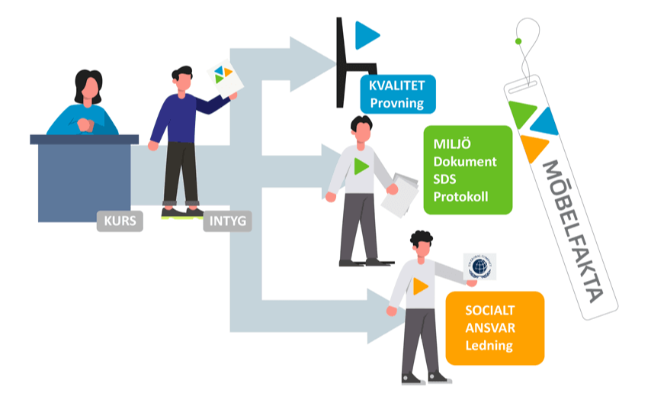 Möbelfakta broschure
You can also download a folder about Möbelfakta in printable, landscape format - Swedish resp. English version.
If you want to order folders - contact Johan Söderqvist,johan.soderqvist@ivl.se.
Märkningsmanualer
Möbelfakta-folder
Beställning av Möbelfakta-produkter
Nedladdning av Möbelfakta-filer
For information in English