Login

You will find the manual and login link for the e-declaration on the right.
If you do not have login informationclick here to announce.


Deklarering

The complete declaration is signed digitally through separate authorizations by the Möbelfakta declarant and the company's CEO. (Only in swedish)
The English Declaration Form must be printed and signed by the Möbelfakta declarant and CEO.


Support

Kontakta support@mobelfakta.se om du har frågor.


Application & review
Furniture that meets the requirements in Möbelfakta can be marked with Möbelfakta. In order to have the right to label furniture, and market that the products meet the requirements, it is required that at least one person in charge of the company has undergone training - see training.

Deklarationssteg

Steg 1 - Deklarantutbildning
Step 2 - Declaration
Step 3 - Review and issuance of certificates.


Första gången du deklarerar en möbel

Vid deklarering av första möbeln kommer en revision att utföras hos företaget inom en månad.

Revisionen är en förutsättning för att kunna erhålla märkningen. Är du på gång med din första deklaration kan du ta kontakt med revisor för att planera revisionen så att du kan få din märkning så fort som möjligt.

Har granskning och revision visat att företaget uppfyller alla Möbelfaktas krav samt att företaget signerat licensavtalet, utfärdas ett intyg om att möbelproducenten är godkänd och kan nyttja Möbelfakta fullt ut.


Review by third party auditor

Deklarationer hanteras digitalt via e-deklarationen när den har är kompletterad och signerad.

Engelska deklarationsblanketter skickas till mobelfakta@trossa.se.

The third party auditor receives the declarations and sends confirmation that documentation has been received - then an audit begins.

The auditor provides feedback either to request additional information or with a notice of approval. Provided that the declaration is correct and no additions are required, the goal is for approval to take place within 5 working days, after which the auditor sends a certificate and the product is published on www.mobelfakta.se.

Approved furniture is reported at www.mobelfakta.se.

For more info on third party auditors, seetrossa.se
Contact
Johan Söderqvist- 010-788 69 44
Login & manual
Declaration Form (eng)
Kravspecifikation
Requirements Specification (eng)
Requirements - Quality
Requirements - Quality (eng)
Krav - Socialt Ansvar
Requirements - Social Responsibility (eng)
Intyg - Underleverantörsintyg
Certificate - Subcontractor certificate
Other documents
Marketing with Möbelfakta
Möbelfakta is a brand that stands for quality, environmental awareness and social responsibility.

Furniture with Möbelfakta's logo signals our relevant and uniform requirements - requirements that give you as a manufacturer, retailer and purchaser a stronger brand and a clear competitive advantage over the customer.

There are also different types of marketing materials for Möbelfakta that you can use in your business.

See the price list on the right for printed products and various digital files to download.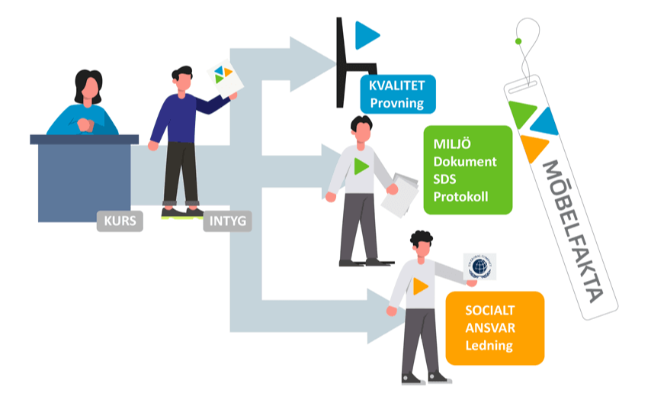 Möbelfaka-folder
You can also download a folder about Möbelfakta in printable, landscape format - Swedish resp. English version.
If you want to order folders - contact Johan Söderqvist,johan.soderqvist@ivl.se.
Märkningsmanualer
Möbelfakta-folder
Beställning av Möbelfakta-produkter
Nedladdning av Möbelfakta-filer