Login
You will find the manual and login link for the e-declaration on the right.
If you do not have login informationclick here to announce.

Declaration
The complete declaration is signed digitally through separate authorizations by the Möbelfakta declarant and the company's CEO. (Only in swedish)
The English Declaration Form must be printed and signed by the Möbelfakta declarant and CEO.

Support to declarants
Contact support@mobelfakta.se if you have any questions


Application
To be able to use Möbelfakta in your marketing, you must have a valid Möbelfakta license. You receive the license after declaring and have approved products by Möbelfakta. Companies have the right to use the trademark as long as they have a valid license.

Application
If you want to start declaring products through Möbelfakta, you must apply by filling in the application form, see below. When the application has been made, you will be able to sign a license agreement and then login information will be sent to the e-declaration. English declarations are handled through a separate declaration form. An application fee is paid upon application.

Möbelfakta specification requirement
Approved products meet Möbelfakta's requirements in quality, environment and responsible supply chains. The requirements specification is available for download here.

Introduction course
Varje företag som deklarerar produkter hos Möbelfakta måste ha en dedikerad deklarant. Deklaranten ska ha deltagit i en informationsutbildning innan den första deklarationen lämnas in. Vid detta tillfälle får du information om Möbelfaktas kravspecifikation, granskningsprocessen samt ytterligare instruktioner och vägledning.


Deklaration and audit
The first time you declare a piece of furniture
When declaring the first piece of furniture, an audit will be performed at the company within one month.

The audit is a prerequisite for being able to obtain the label. If you are working on your first declaration, you can contact the auditor to plan the audit so that you can receive your label as soon as possible.

If an audit has shown that the company meets all Möbelfakta's requirements and that the company has signed the license agreement, a certificate is issued that the furniture manufacturer is approved and can make full use of Möbelfakta.

What is required of the company
The company must be able to present a comprehensive documentation that proves that the criteria in Möbelfakta's requirements are followed. Full transparency is expected from the company regarding how the content of the requirements specification is complied with. Compliance checks are performed at both companies and their suppliers. In the event that a company or its supplier violates the requirements, corrective measures must be taken.

A corrective measure means that a furniture manufacturer ensures that its own company, or supplier, rectifies the deviation as quickly as possible.


Review by third party auditor
Declarations are handled digitally via the e-declaration when it has been completed and signed.

English declaration forms are sent tomobelfakta@trossa.se.

The third party auditor receives the declarations and sends confirmation that documentation has been received - then an audit begins.

The auditor provides feedback either to request additional information or with a notice of approval. Provided that the respective declaration is correct and no additions are required, the goal is for approval to take place within 5 working days, after which the auditor sends a certificate and the product is published on www.mobelfakta.se.

Approved furniture is reported at www.mobelfakta.se.

For more info on third party auditors, seetrossa.se
Contact
Johan Söderqvist- 010-788 69 44
Login & manual
Declaration Form (eng)
Supporting documents
Requirements - Quality (eng)
Intyg - Underleverantörsintyg
Certificate - Subcontractor certificate
Other documents
Marketing with Möbelfakta
Möbelfakta is a brand that stands for quality, environmental awareness and social responsibility.

Furniture with Möbelfakta's logo signals our relevant and uniform requirements - requirements that give you as a manufacturer, retailer and purchaser a stronger brand and a clear competitive advantage over the customer.

There are also different types of marketing materials for Möbelfakta that you can use in your business.

See the price list on the right for printed products and various digital files to download.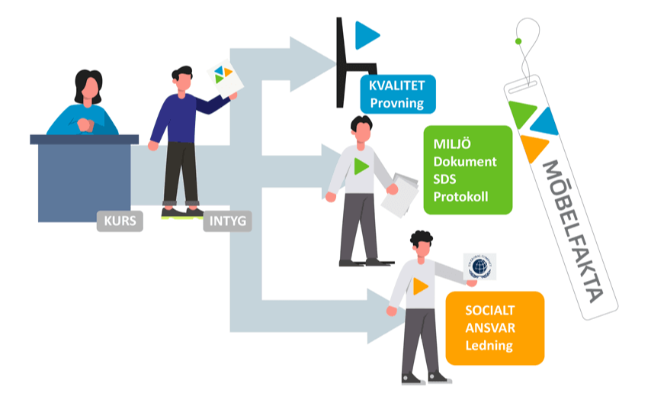 Möbelfakta broschure
You can also download a folder about Möbelfakta in printable, landscape format - Swedish resp. English version.
If you want to order folders - contact Johan Söderqvist,johan.soderqvist@ivl.se.
Märkningsmanualer
Möbelfakta-folder
Beställning av Möbelfakta-produkter
Nedladdning av Möbelfakta-filer