● Step 1 - Declaration course
● Step 2 - Declaration
● Step 3 - Review and issue of certificates

https://www.mobelfakta.se/uploads/files/IKEM - Checklista SDS.pdfHere you will find links and tools for you who will declare with Möbelfakta.

You will find manual and login link to e-declaration on the right.
Declarations in English are made so far through the English declaration form (Declaration Form) but will in the long term also be possible through the e-declaration.

When the declaration is complete, it is digitally signed through separate permissions by the Möbelfakta declarant and the company's CEO

Process


When using the English Declaration Form, this must be printed and signed by the Möbelfakta declarant and the CEO.

Quality
When it comes to quality requirements, the furniture must have documentation from passed tests and tests. In Sweden they are usually done at RISE in Borås. See template on the right for a test laboratory statement.

Environment
In addition to questions on specified and detailed material and product requirements via the declaration form, you must have some form of documentation to meet the environmental requirements of Möbelfakta.

Social responsibility
The requirements in Social Responsibility are based on the UN Global Compact and the company must adhere to the principles listed in the requirements specification. The company must certify that it works systematically with social responsibility within its own operations and towards the supply chain. In this work, the company can use the Möbelfakta certificate for subcontractors (Swedish and English version) as well as a number of other documents, all of which can be downloaded to the right on this page.
Application & review
The third-party review of all declarations in Möbelfakta is handled by an external and independent auditor.

Declaration
The third party auditor receives the declarations and sends confirmation that the documentation has been received - then the audit begins. Cluster feedback either to request supplementary information or with approval notice. Provided that the respective declaration is correct and no supplements are required, the goal is that approval should be possible within 5 working days after which Trossa sends certificates. At high loads or during holiday times, the processing times may be longer but information will be provided in such cases.
Declarations are processed digitally via the e-declaration when it has been completed and signed.
English declaration forms are sent tomobelfakta@trossa.se.

The first time you declare a piece of furniture
When declaring the first piece of furniture, an audit will be performed at the company within one month. The audit is a prerequisite for obtaining the label. If you are in the process of making your first declaration, you can contact Trossa to plan the audit so that you can get your label as soon as possible.
If a review and audit has shown that the company meets all the requirements of Möbelfakta, a certificate is issued that the furniture manufacturer is approved and can use Möbelfakta fully. Approved furniture is reported on mobelfakta.se.

For more information about Trossa, seetrossa.se.
Contact
Johan Söderqvist- 010-788 69 44
Login & manual
Declaration Form
Requirement Specification
Requirements - Quality
Requirements - Social Responsibility
Certificate - Subcontractor certificate
Certificate - Subcontractor certificate
Other documents
Furniture that meets the requirements of Möbelfakta can be labeled with Möbelfakta. In order to get the right to label furniture, and market that the products meet the requirements, at least one person responsible for the company has to undergo an education - a one-day course in Möbelfakta. Then you need to make a furniture declaration, which is reviewed by a third party auditor, Trossa.

Step 1 - Declaration course
Step 2 - Declaration
Step 3 - Review and issue of certificates.


Labeling Manuals
Ordering of Möbelfakta products
Möbelfakta is a brand that stands for quality, environmental awareness and social responsibility. Furniture with the Möbelfaktas logo signals our relevant and uniform requirements - requirements that give you as a manufacturer, retailer and retailer a stronger brand and a clear competitive advantage towards customers.
On the left are manuals to download;
1) license terms for branded Möbelfakta furniture (top) as well
2) how to use Möbelfakta's graphic profile.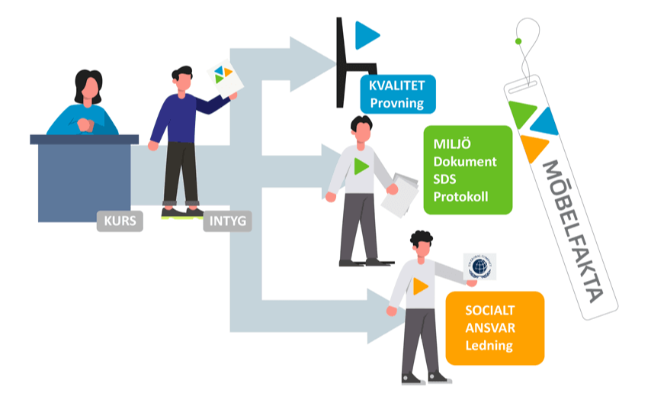 But there are also different types of marketing materials for Möbelfakta that you can use in your business.

See the price list on the right for printed products and various digital files to download.

Möbelfakta leaflet
You can also download a folder on Möbelfakta in printable, landscape format - Swedish or Swedish. English version.
If you want to order leaflets - contact Johan Söderqvist,johan.soderqvist@ivl.se.
License Agreement
Labeling Manuals
Möbelfakta-me
Ordering of Möbelfakta products
Downloading Möbelfakta files